Recycling Coordinator:  Phone: (570)-893-5612
Please note:  Glass is not accepted as recyclable product in Clinton County.  Please place all glass in your dumpster/trash for disposal.  Or, you can take your glass to be recycled at a Centre County or Lycoming County drop-off site where glass is still recycled.
For Commercial Recycling CLICK HERE

Lock Haven has three separate collection zones. Zone 1, which covers most of the downtown between the railroad tracks and the levee to the airport, is collected every other Friday. Zone 2, which covers from Second Avenue to Bellefonte Avenue and follows the railroad tracks, is collected every other Tuesday, and zone 3, which covers from Second Avenue to the city line at Flemington and from Bellefonte Avenue out to Susquehanna Avenue and includes Sunset Pines, is collected every other Wednesday.  Please contact the Wayne Township Landfill recycling center about the disposal of electronics and brush, wood and yard waste throughout the year.
2023 Curbside Recycling Schedule: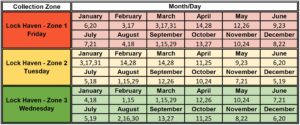 Our City residents recycled more than 1229 tons of materials.  The City has a 14% recycling rate (County waste divided by county population then multiplied by City population).
Residential Curbside Pickup
Material

What Can

What Can't

Preparation of Recyclables

Paper

Newsprint (including inserts), junk mail, magazines, office paper, and board
Corrugated cardboard (deposit at drop off center), wax paper, tissue paper
Separate newsprint from other types of paper

Aluminum

Aluminum beverage containers
Pie plates and Aluminum foil
Rinse containers and leave labels on

Plastic

Plastic containers, coded #1 through #7, typically soda, milk, water, and laundry soap bottles
Toys, motor oil bottles or chemical bottles
Rinse containers, remove lids, leave labels on

Steel & Tin

Food and beverage containers
Pesticide or herbicide spray cans
Rinse food and beverage containers.

Myrtle Street Drop-Off Center
100 Myrtle Street
(In addition to the curb side pickup)

Corrugated Cardboard
Typical brown packing boxes
Coated corrugated cardboard
Remove any contents, break down boxes flat
Curbside Recycling within the City of Lock Haven is FREE to all City Residents. Materials should be placed in the green bin designated for recycling and placed at the curbside by 7:00 a.m. on the day of your scheduled pickup. Pick-up days are scheduled according to the recycling zone you live in. Pick up will occur on the same weekday every other week.
Any CITY resident can pick up a recycling bin at Lock Haven City Hall, 20 East Church Street, Lock Haven, PA or by contacting the City at 570-893-5612, 8:30 a.m. to 5:00 p.m. Monday through Friday.
Magnets with the recycling schedule will be distributed at the beginning of each year in your recycling bins on your scheduled pickup day.  If you don't get a magnet or need an additional magnet, please stop in City Hall to pick one up in the Water office or the 2nd floor reception area.
For the convenience of our residents, the city also offers curbside: