The City of Lock Haven is following public health advice to take precautionary measure to limit the impact of COVID-19 (coronavirus SARS-CoV-2).  Balancing health and well-being with public service, the City strongly recommends social distancing and staying home as much as possible to limit the spread of COVID-19 in our community.
Click here to view the COVID-19 14-day daily infection & testing data for the City of Lock Haven.
The City of Lock Haven is still under a Declaration of Emergency, but with reduced restrictions under the PA Department of Health.  Due to the recent increase in the COVID-19 infection rate, all City facilities are currently open by appointment only. 
All payments must be paid online or by mail. 
 Covid-19 information and resource page
There will be a regular meeting of Council on Monday, January 4, 2021 at 7:00 pm., over Zoom conference call.  This meeting will be live streamed and available to view on the City's Facebook and Youtube pages.
A copy of Monday's agenda is available here.
---
PUBLIC NOTICES:
BOIL WATER ADVISORY LIFTED:
This message is for residents of 435-495 S Jones Street, 5-18 Mount Vernon Street and 397-640 E. Park Street. On Thursday, January 14, 2021 residents of this area were advised to boil water before using because of a of a line repair.  We are pleased to report that the problem has been corrected and that it is no longer necessary to boil your water before using.  The line has been repaired and the water has been tested twice over a two day period and is free of contamination.  Again, it is no longer necessary to boil your water before use.
DROUGHT WARNING:
The Department of Environmental Protection (DEP) moved Clinton County to a drought watch. Following the guidelines laid out in the Drought Contingency for The City of Lock Haven and Suburban Water Authority, all customers are asked to reduce their water consumption by 10%.
Some examples of conserving water are to avoid letting faucets run, reduce showering times and frequency, use dishwasher or laundry appliances with full loads, avoid watering landscapes and washing vehicles. 
More information regarding conserving water can be found on the City's website at lockhavenpa.gov/dept/public-works/water/savewater/ where you can calculate your water footprint and learn how you can help conserve water.  
---
How do I pay my Water/Sewer bill?
ONLINE – visit https://lockhaven.authoritypay.com/  You can pay with your checking account or your card.  You will need your account number and CID number to set up your account.  If you don't have these handy, feel free to call us during business hours to provide this information. 
BY MAIL – Checks and Money orders can be mailed to 20 E Church St.  Lock Haven, PA 17745.  Checks and Money Orders should be made out to City of Lock Haven. 
---
RESIDENTIAL BRUSH DUMPSTER NOTICE:
The City of Lock Haven would like to remind City residents that they can dump yard waste at the City's Public Works Facility located at 99 Second Avenue in Lock Haven between the hours of 7 A.M. and 3:30 P.M. This is only available to the City of Lock Haven residents. All residents must schedule an appointment by contacting the Public Works Staff Assistant at 570-893-5917 option 0. City residents must display their driver's license to verify their address. Only the following approved materials will be accepted, small trees, limbs, brush, shrubs, grass, leaves, and stumps with no dirt. Small trees and limbs must be neatly trimmed to save space in the dumpster. Absolutely NO TRASH or FOOD WASTE allowed. City Public Works can help with heavier items if arrangements are made ahead of time.
---
View our financial data and compare us to other municipalities at GovRank.org
View our 2019 Water Quality Report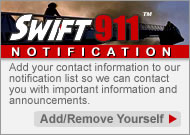 Select photos on this site are used by permission of local photographer David B. Kawchak.  For prints or to explore works by this local artist, visit his website.