Welcome to the City of Lock Haven.  Incorporated as a City of the Third Class by Act 601 of 1870, Lock Haven is the county seat of Clinton County located in north-central Pennsylvania. The City lies between the banks of the West Branch of the Susquehanna River and the Bald Eagle Creek. The City of Lock Haven is the largest municipality in Clinton County, encompassing 2.3 square miles with a population of 9,770.
The Lock Haven Early Intervention Program Report is available by clicking here.  The report contains a current analysis and 5-year financial projection as performed by the Pennsylvania Economy League with a grant from the PA Department of Economic Development.  You can also view the Presentation from the May 20, 2019 meeting by clicking here.
The Lock Haven City Council will consider the adoption of Ordinance No. 2019-04 Vacating a portion of Third Avenue from Bellefonte Ave then approximately 390 feet south.  A copy of the ordinance can be obtained by clicking here.  A map of the area to be vacated can be obtained by clicking here.  The public is invited to provide comment at the regular meeting of City Council on June 3, 2019 at City Hall during a hearing for this purpose.  The hearing to be held on May 20 will be acted on for a continuance to enable discussion instead on June 3, 2019.
The Lock Haven City Council has adopted Resolution No. 1336 establishing RULES FOR COUNCIL MEETINGS. A copy of the resolution can be obtained by clicking here.
BOIL WATER ADVISORY
The Residents of the 200 block and up of Susquehanna Ave, Summer Point, Sugar Run Rd, Hill St, Melody Lane, 449-760 Renovo Rd, and 19 Willow View St. may be at increased risk for Microbial Contamination.  On Tuesday, May 21, 2019, we repaired a leaky valve.  In order to do this, City staff needed to turn the water off.  Loss of positive pressure from the turn off could result in contamination.
Residents should not drink the water without boiling it first.  Bring all water to a rolling boil, let it boil for one minute, and let it cool before using; or use bottled water.  You should use boiled or bottled water for drinking, making ice, washing dishes, brushing teeth, and food preparation until further notice.
We will inform you when all corrective actions have been completed and when you no longer need to boil your water.  For more information, please contact the Water Department at 570-893-5909.
View our financial data and compare us to other municipalities at GovRank.org
View our 2017 Water Quality Report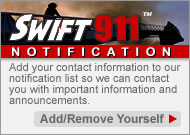 Select photos on this site are used by permission of local photographer David B. Kawchak.  For prints or to explore works by this local artist, visit his website.